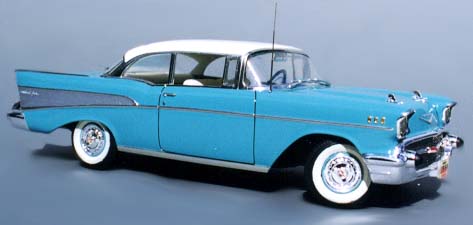 Click here to learn about and purchase Bare-Metal® Foil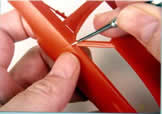 Click here to read about and purchase the Bare-Metal® Panel Scriber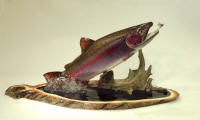 New 9 hour DVD series
"Creating an Artificial Water Splash"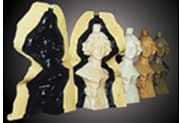 Click here for Polytek® Mold Making Rubber Compounds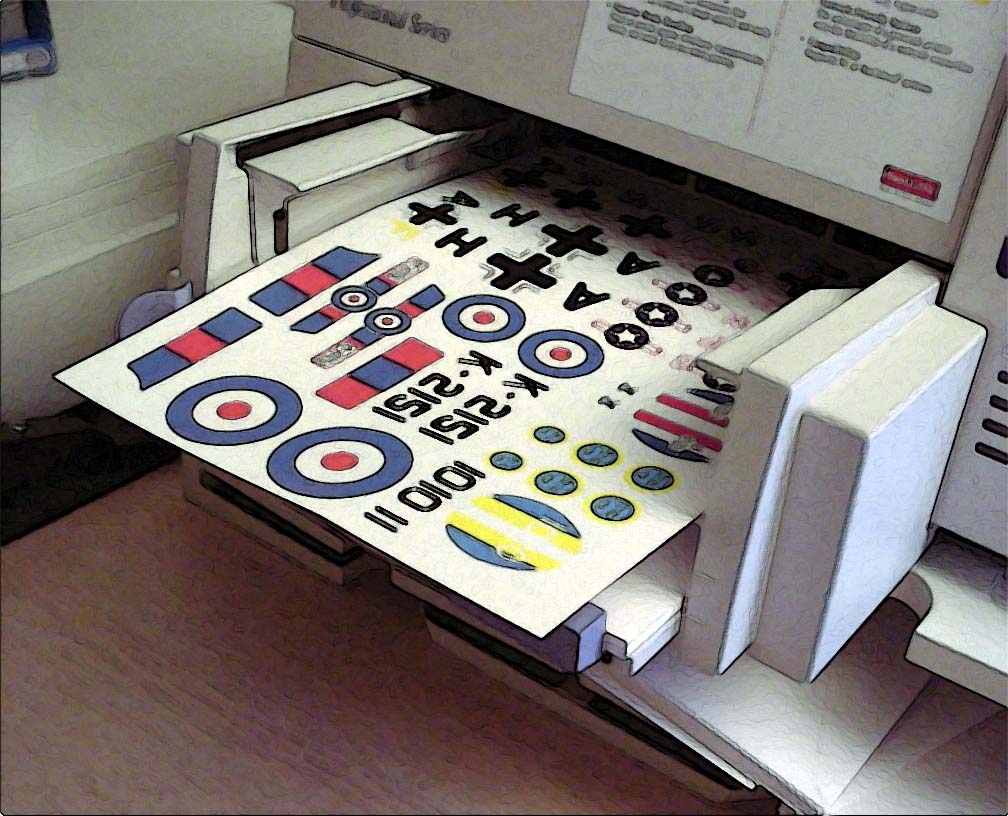 Click here to purchase
Experts-Choice® Decal Film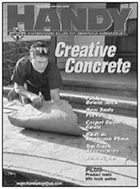 Click here to read about making concrete stamps using Polytek® 75-80 Polyurethane Rubber

---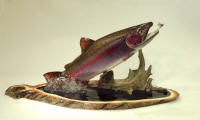 Learn time tested methods for creating the ever popular water splash effect. A dramatic / realistic effect like no other. Learn the secrets behind working with clear casting resins to create realistic water effects that will not yellow, dull or crack over time. Filmed in my studio, I demonstrate ALL the techniques and materials used in creating one of my water splash effects. Demonstrated in the video series is the water splash created for the above pictured 26" rainbow trout wood carving. Others are also covered.
This 6 DVD course with over 9 HOURS of instructional video will have you mastering this dramatic effect with your first attempt. Learn from 20 years of experience working with resins what works and what doesn't....and why.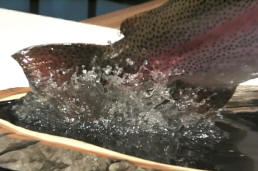 Now you can learn the entire process in depth, from home. This information, until now, was only offered in a week long "hands on course" in my studio. Even then I was not able to devote the time to teaching "The Splash" like I have here. In class completing a carving, painting and setting it in a splash is a tall order in 5 days, leaving little time to go over everything involved in working with resin. Here, with no deadline, or time constraints I have revealed it ALL in an easy to follow format, ensuring you successes with your first water splash or in refining your present methods.
This is hands down the most complete video course I have ever offered.
Included in this course:
Safety Considerations and Equipment needed to work with polyester resins.

Tools and Materials needed.

Choosing and working with the proper resins

Testing resins

Conditioning Resins

Preventing yellowing, shrinking and cracking.

Accelerated Curing Techniques

Ripple, wave and wind blown effects.

Understanding the hydraulics behind an actual splash.

Reference

Coloring Resins

Casting Components

Making flex molds using my flash heat method

Building the splash one step at a time.

Casting a water clear hand

Inserting fish (or other carvings) into the base with proper support.

Production splash casting for limited editions

Base considerations and construction

Router use.

Controlling the "Gel Window"

Creating primary, secondary and water droplet components.

Carving cured resin pieces

Splash assembly

Inserting habitat components

The "Barrier Shield" - Protecting the paint finish on your carvings and habitat components from the resin during splash construction.

Heat curing

Cold curing

And much more....
Also, as a bonus - Building a Heated Dust Free Splash Component Curing Cabinet. I designed a curing box that will cure resins in an hour to a tack free crystal clear finish to accelerate the splash building process. No more waiting days for pieces to cure hard. Watch as I build a complete cabinet on video explaining every step of the way. Included with the video course is a cut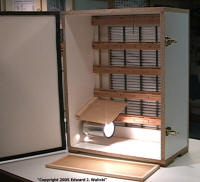 list and material list to build your own for less than $75 (less if you already have some scrap wood around the shop) and an hour or so of time. It will produce perfect splash components time and time again. One of the most used contraptions in my shop! Now you have everything you need to build one for yourself.
And......With each DVD course comes my "Source List" for the materials used. You get my actual sources for the materials and contact names for the products used. And you will receive the same discounted price for those materials I pay. For years they have provided a student discount to those attending my hands-on classes and have agreed to do the same now for my video courses as well. So you can take advantage of that also.
DVD 4:3 Regular Version (Dolby Digital)
(6 Disk Set - 9 Hours) $99.00

DVD 16:9 Widescreen Version (Dolby Digital) (6 Disk Set - 9 Hours) $99.00

VHS Version (6 Tape Set - 9 Hours)$99.00
.