"Trinity Root": Tobin's Latest Earth Bronze
"Trinity Root": Tobin's Latest Earth Bronze
A Memorial for All Time Made Using Polytek Mold Rubber & Plastic

One of Steve Tobin's "Earth Bronze Root Sculptures" gives a glimpse of what the 18-foot-high "Trinity Root" bronze will look like when completed and dedicated on Sept. 11 this year.
---
As you read this article, Steve Tobin and his team of artists, sculptors, and restoration specialists in Quakertown, PA, are carefully working to memorialize and preserve forever the natural remnants of the now famous "Trinity Tree Root," which was once located in front of St. Paul's Chapel of the Parish of Trinity Church on Wall Street adjacent to Ground Zero in New York City.
As debris rained down around the church on Sept. 11, 2001, an enormous sycamore tree shielded the church building from catastrophic damage. In the weeks that followed. St. Paul's became a hospice—a place of worship and a place of rest for those who worked tirelessly at the epicenter of the tragedy. Volunteers, counselors, and healthcare professionals transformed Trinity Church into the central meeting place where workers ate, slept, wept, and were renewed as they poured time and effort into search and cleanup operations.
Eventually, St. Paul's sycamore tree succumbed to the extensive damage from falling debris and was cut down. Its roots and stump remained at St. Paul's until Tobin's crew was commissioned to excavate and reproduce the root in bronze. The finished bronze will be installed in downtown Manhattan across from the well-known bronze Wall Street Bull. Tobin is uniquely qualified for this task. He has completed several "Earth Bronzes," including root sculptures measuring up to 15 feet high and 25 feet in diameter. Tobin's Root Sculpture and other Earth Bronzes have been recently
exhibited at the American Museum of Natural History in New York City.
To create the bronze casting through the lost wax process, Steve and his crew first needed to make numerous flexible rubber molds to capture the intricate shapes and detail of the stump and all the
root structure. Having worked with many Polytek® mold rubber and plastic products over the years, Steve turned again to Polytek® for mold-making advice and material selection. Because of the intense
undercuts and fragile root structure, Tobin's moldmakers chose to use Poly 74-20, a 1A:2B, soft Shore A~20 liquid polyurethane mold rubber with high elongation (stretch) and tear strength.
A major criterion for this project was to leave the original stump and root ball intact for preservation after the molding process. To accommodate this parameter, Tobin's crew carefully sealed the porous
wood using Polytek®'s clear polyvinyl alcohol (PVA) sealer. Since PVA is water soluble, the sealer could be easily washed away once the mold-making phase was completed.
Because of the root system's size and complexity, Tobin decided to brush the mold rubber onto the original root structure. To make a brushed mold, new Poly Fiber II thickener was added to the mixed
rubber to whatever level was desired. Since the first coat of rubber needed to pick up all the surface detail without trapping bubbles, it couldn't be too thixotropic, so only a little Poly Fiber II was used.
More fiber was added in the subsequent coats to allow for faster thickness build. In most cases, three coats of Poly 74-20 thickened with Poly Fiber were used to make the completed blanket molds that
were about 3⁄8-inch thick. Each blanket mold section was allowed to cure overnight; then a thin coat of Butcher's Wax was brushed on, allowed to dry (approximately 10 minutes), and top-coated with a light coat of Pol-Ease® 2300 Release Agent to ensure that the plastic mother mold/shell would separate easily from the 74-20 rubber mold. Since the blanket molds were thin, rigid mother mold/shell sections were made of Poly 1512X mixed with Poly Fiber over the various blanket mold sections to keep them in their original shapes during the wax casting.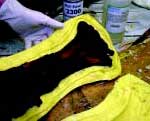 Poly 74-20 captures all the detail and releases beautifully from Tobin's original root sections.
Dozens of molds have been made, but work continues. These molds consist of large sections of the stump as well as smaller ones of the finest root structure.
Wax castings pulled from these Poly 74-20 rubber molds will be submerged in a refractory slurry which upon heating will allow the refractory material to fuse together, resulting in a mold that can withstand the high temperature of molten bronze. During this heating step, the wax will be melted and removed from this new refractory mold (hence the term "lost wax process"), leaving a cavity in which to pour the bronze.
As many Polytek® art foundry customers know, this is a very painstaking and laborious process, and it all starts with using a high-quality mold rubber that will capture all the detail of the original, allow numerous wax castings, if needed, and last indefinitely when stored. Since polyurethane rubbers are cost-effective and easy to use, offer high performance (excellent tear and elongation), release wax castings easily, and come in systems that can be poured, brushed, or sprayed, they are the moldmaker's first choice in liquid rubbers. Once the mold is made, the storage life (shelf life or library life) of polyurethanes like the Poly 74-Series (pourable or brushable) and Polygel rubbers (brushable or sprayable) is unmatched. When stored properly, they can be expected to last indefinitely. (So far, we have 20 years of data and are going strong!)
More information on the Trinity Root and the work performed by the Tobin Studio will be available soon. CNN, National Geographic, and other media organizations are preparing programs to document Tobin's progress and the planned dedication of the bronze sculpture to Trinity Church on Sept. 11, 2005. Thanks, Steve, for choosing Polytek® to participate in a project of such profound significance.
Special thanks to Polytek for providing this content. Copyright © 2005, Polytek Development Corp. All Rights Reserved.