PolyGel
®

SELF THICKENING LIQUID RTV RUBBER FOR BRUSHED OR SPRAYED MOLDS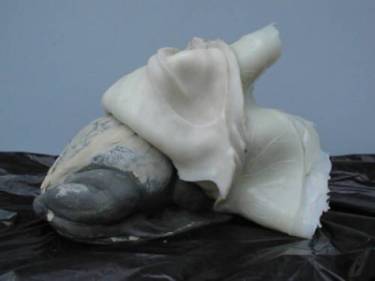 Frog ornament made with Polygel® 40 mold rubber. Notice how rubber can be turned inside out. An entire mold can be made in a morning. A plaster shell can be made the same day or a resin shell the next day.
RUBBER FEATURES:
Tough, with high tear strength
Good grease and oil resistance
Fast - one day molds
1:1 mix, by weight or volume
Good adhesion between coats
Good flow into fine detail
Long mold storage life
Color coded mix indication
Good dimensional stability
Polygel® mold rubbers consist of two liquids, Part A and Part B, which after mixing one to one by weight or volume, immediately gel to a brushable or trowellable consistency, then cure overnight at room temperature to a flexible, tough RTV (room temperature vulcanizing) rubber. They are ideal for molds built up with a brush, spatula, or spray.
Polygel® 40 yields the most liquid mix for best air bubble release and easiest brushing and cures to a Shore A hardness of 40. Polygel® 50 yields a thicker mix and cures to a tougher 50 Shore A hardness. Polygel® 50 is an excellent adhesive for bonding Polyurethane rubbers to many materials. New, Polygel® Spray 50 consists of a blue Part A and a yellow Part B which yield a green mix. For more information on the Polygel® Sprayer contact the Bare-Metal Foil Co.
Polygel® liquid components are stirred together, the mix changes color, and thickens to a buttery non-sag paste with a working time of about twenty minutes. A mold can be built up in two or three coats, each applied about one hour apart, so the mold can be finished in several hours. Sprayed molds can be completed in one application. The rubber will cure overnight at room temperature to a tough skin mold, which can be reinforced with fabric, if desired.
USES:
Polygel® mold rubbers are recommended as a mold material for plaster, cement and waxes. As well as for limited casting with polyester, epoxy and polyurethane resins. They exhibit good adhesion to many Polyurethane rubbers and may be used for repairing torn molds with fabric reinforcement.