Pathway Polymers® Por-A-Mold Low Viscosity Polyurethane Mold Materials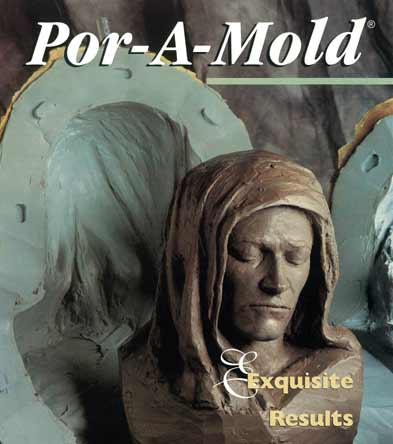 All POR-A-MOLD molding products from Bare-Metal Foil give the benefits of minimum shrinkage with dimensional integrity, can be hand or machine mixed, poured, sprayed or brushed, and, when used according to instructions, are relatively safe to use. All are two component molding products that are mixed 1:1 by volume and are excellent at capturing fine detail. Because these products are polyurethane rubbers they require a release agent when using Por-A-Kast resin. Por-A-Mold S series polyurethane rubber comes in a pourable form which is listed at the top of this page. Or a trowable form that is listed toward the bottom. Easy releasing molds for casting gypsum, concrete stamping, concrete castings, plaster, candle wax, bronze casting.
POR-A-MOLD S-111, S-333, and S-555
These are pourable molding products that are recommended for molding small objects. S-111 is soft and supple and is excellent for molding deep undercuts and has great elasticity needed to unmold successfully, yet transfer the deep undercuts to the casting. S-333 is medium hardness and is intended for molding objects with moderate undercuts. S-555 is firmer yet and is intended for objects with light to moderate undercuts, yet has the strength to be used over and over while resisting distortion.
100 POR-A-MOLD S-111 2 QUART KIT

100 POR-A-MOLD S-111 2 QUART KIT
---
099 POR-A-MOLD S-111 2 GALLON KIT

099 POR-A-MOLD S-111 2 GALLON KIT
---
610307 POR-A-MOLD S-111 10 GALLON KIT

610307 POR-A-MOLD S-111 10 GALLON KIT
---
101 POR-A-MOLD S-333 2 QUART KIT

101 POR-A-MOLD S-333 2 QUART KIT
---
098 POR-A-MOLD S-333 2 GALLON KIT

098 POR-A-MOLD S-333 2 GALLON KIT
---
611307 POR-A-MOLD S-333 10 GALLON KIT

611307 POR-A-MOLD S-333 10 GALLON KIT
---
102 POR-A-MOLD S-555 2 QUART KIT

102 POR-A-MOLD S-555 2 QUART KIT
---
097 POR-A-MOLD S-555 2 GALLON KIT

097 POR-A-MOLD S-555 2 GALLON KIT
---
614307 POR-A-MOLD S-555 10 GALLON KIT

614307 POR-A-MOLD S-555 10 GALLON KIT
---